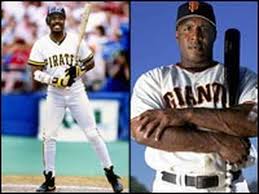 The first few paragraphs of the Ninth Circuit's opinion explain the setting: "Barry Bonds was a celebrity child who grew up in baseball locker rooms as he watched his father Bobby Bonds and his godfather, the legendary Willie Mays, compete in the Major Leagues. Barry Bonds was a phenomenal baseball player in his own right. Early in his career he won MVP awards and played in multiple All-Star games. Toward the end of his career, playing the San Francisco Giants, his appearance showed strong indications of the use of steroids, some of which could have been administered by his trainer, Greg Anderson. Bond's weight and hat size increased, along with the batting power that transformed him into one of the most feared hitters ever to play the game. From the late-1990s through the early-2000s, steroid use in baseball fueled the unprecedented explosion in offense, leading some commentators to refer to the period as the "Steroid Era." In 2002, the federal government, through the Criminal Investigation Division of the Internal Revenue Service, began investigating the distribution of steroids and other performance enhancing drugs ("PEDs"). The government's purported objective was to investigate whether the distributors of PEDs laundered the proceeds gained by selling those drugs.  [¶] . . . The government convened a grand jury in the fall of 2003 to further investigate the sale of these drugs in order to determine whether the proceeds of the sales were being laundered. Bonds and other professional athletes were called to testify. Bonds testified under a grant of immunity and denied knowingly using steroids or any other PEDs . . .The government later charged Bonds with obstructing the grand jury's investigation. After a jury trial, Bonds was convicted of one count of obstruction of justice in violation of 18 U.S.C. § 1503." In affirming Bonds' conviction, the appeals court noted that when factually true statements are misleading or evasive, they can prevent the grand jury from obtaining truthful and responsive answers. (United States v. Bonds (Ninth Cir.; September 13, 2013) 730 F.3d 890.) Vacated.
Saving Bonds. The Ninth Circuit granted an en banc hearing. The court quoted the testimony for which Bonds was convicted of obstructing justice:
Q:  Did Greg [Bond's trainer] ever give you anything that required a syringe to inject yourself with?
A:  I've only had one doctor touch me.  And that's my only personal doctor. Greg, like I said, we don't get into each others' personal lives. We're friends, but I don't—we don't sit around and talk baseball. If you want to come to my house and talk about fishing, some other stuff, we'll be good friends. You come around talking about baseball, you go on. I don't talk about his business. You know what I mean?
The Ninth Circuit's en banc opinion discusses how the statute Bonds was convicted of violating [18 U.S.C.§ 1503] poses a significant hazard for everyone involved in our system of justice, "because so much of what the adversary process calls for could be construed as obstruction," and "because the statute sweeps so broadly." Bonds' conviction was reversed for insufficient evidence. (United States v. Bonds (Ninth Cir.; April 22, 2015) 784 F.3d 582.)