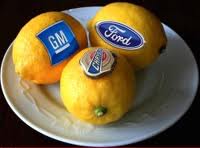 Plaintiff purchased a used automobile from a private party, and thereafter sued Ford Motor Co. alleging violations of the Song-Beverly Consumer Warranty Act [
Civil Code
section 1790
et seq.
]. Ford's motion for summary judgment was granted because
Civil Code
section 1791(l) requires the seller to be a "retail seller" engaged in the business of selling or leasing consumer goods to retail buyers. However, after the motion had been filed, plaintiff sought leave to amend to allege violation of the federal lemon law under the Magnuson-Moss Act [15 U.S.C. § 2301], but the trial court denied the request. The Court of Appeal affirmed the grant of summary judgment, but reversed and remanded on the amendment request, finding the trial court abused its discretion. (
Dagher v. Ford Motor Co.
(Cal. App. Fourth Dist., Div. 1; July 17, 2015) 238 Cal.App.4th 905 [190 Cal.Rptr.3d 261].)