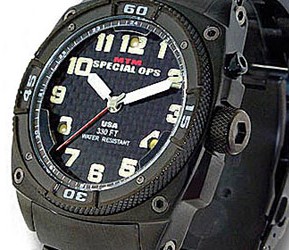 Plaintiff is the manufacturer of high-end military style watches, known as MTM Special Ops watches. Defendant, retailer Amazon.com, does not sell these watches, but when a potential buyer inserts "MTM Special Ops" onto its website, a message will direct the person to related searches of "MTM special ops watch," and show images of watches manufactured by plaintiff's competitors. Plaintiff claims Amazon infringes its trademark because of the manner in which it responds to a shopper's search request for trademarked goods. The trial court judge granted summary judgment in favor of Amazon, finding its use of plaintiff's trademark created no likelihood of confusion as a matter of law. The Ninth Circuit reversed:  "[W]e think a jury could find that Amazon has created a likelihood of confusion."  (
Multi Time Mach., Inc. v. Amazon.com, Inc. 
(Ninth Cir.; July 6, 2015) 792 F.3d 1070.)
Recent Developments:
Opinion Withdrawn And New Opinion Filed In Intellectual Property Case.
After Amazon.com petitioned for a hearing
en banc
, the Ninth Circuit panel withdrew its July 2015 opinion reversing grant of summary judgment and issued a new opinion, rendering the
en banc
petition moot. This time around, the panel affirmed grant of summary judgment in favor of Amazon.com, stating: "The core element of trademark infringement is whether the defendant's conduct is likely to confuse customers about the source of its products [citation]. Because Amazon's search results page clearly labels the name and manufacturer of each product offered for sale and even includes photographs of the items, no reasonably prudent consumer accustomed to shopping online would likely be confused as to the source of the products." (
Multi Time Mach., Inc. v. Amazon.com, Inc.
(9th Cir. Cal. July 6, 2015) (Subst. Opinion; October 21, 2015.) [116 U.S.P.Q.2D (BNA) 1583].)