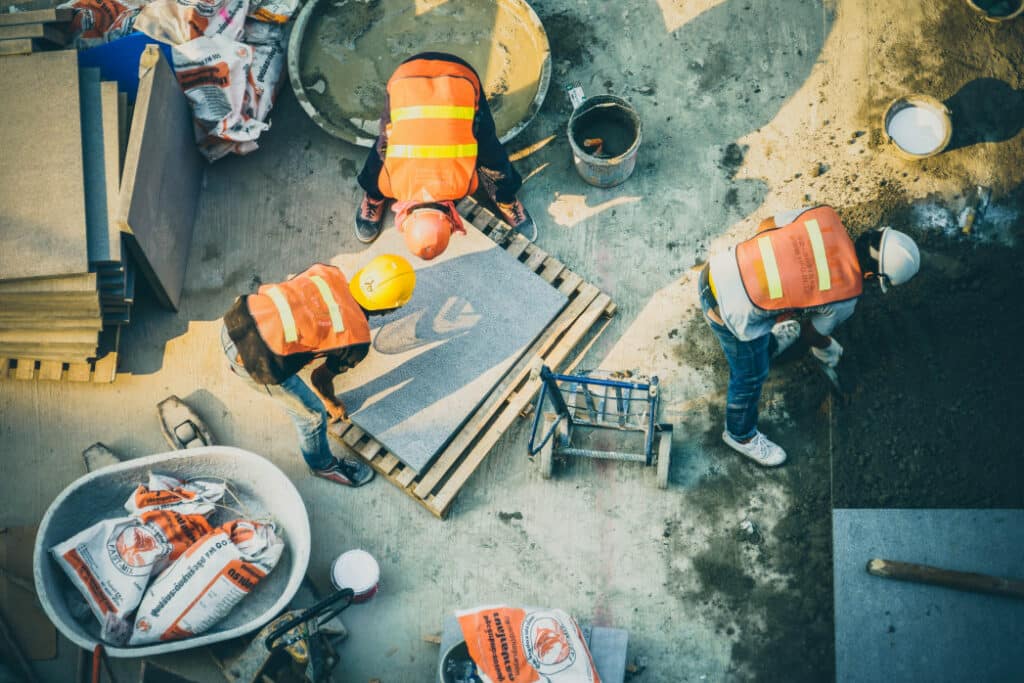 The modern construction industry has one of the highest numbers of work-related and on-site construction accidents among all sectors, nearing 200,000 injuries per year.
These accidents are often devastating for those injured, and they can also cause severe damage to all company assets, including employees, profits, client's trust, and company reputation. 
The statistics surrounding these accidents can be extremely concerning. However, it is worth keeping in mind that most construction accidents are preventable with the right training and caution. 
One of the first steps toward construction accident prevention is recognizing the most common causes of accidents on construction sites. Becoming familiar with these common causes can help you address potential risks and design a comprehensive risk assessment.
Here are the most frequent causes of construction accidents.
Falling Objects and Debris
Falling objects are a common source of construction site injuries. These objects might be tools or pieces of equipment, but they can also be small debris and parts of buildings under construction.
Even very small objects can be fatal or cause injury when falling from very high. Indeed, the speed the object gains during the fall will multiply the force of the collision between it and a member of your staff or a pedestrian. 
Depending on who was involved in the accident, an injury caused by falling objects that is taken to court could be classified as a negligence claim.
Falls From Elevated Areas or Ladders
No elevated construction projects can be carried out safely without a secure scaffolding structure. Naturally, the scaffold types and height will depend on how extensive the construction project is. In turn, the higher the scaffolding is, the more severe the danger they carry will be. 
Working at such elevations is not always easy, and falls can be common—especially when high winds or poor working conditions come in to play. When an accident related to falls happens, your construction company will generally be held responsible, unless the employee who suffered the injury was intentionally acting outside your company's enforced safety rules.
Presence of Tripping Hazards
While often underrated, tripping and slipping hazards are among the most common risks and are responsible for a large number of injuries. 
It is easy to overlook a cable or an object on the floor, especially in a construction site where clutter is often inevitable. Any ensuing accident or claim will be judged depending on the precise circumstances of the event. As a precaution, it's best to maintain free walkways and create standards for where equipment can be placed.
Accidents Related to Power Lines
Fire, explosions, and electrocution are other common causes of severe injuries on a construction site. Depending on where and how a power line-related accident happens, these incidents can lead to severe injuries, burns, and even falls. 
Because of such consequences, it is always recommended to have precise guidelines in place for handling power lines and wires.
Unsafe or Defective Equipment
Sometimes, the cause behind an injury can be traced back to unsafe or defective equipment.
Because construction sites are large and in place for extended time frames, it can be challenging to check each tool consistently. Nonetheless, a construction company's employees rely on these tools being in safe and functional condition.
Checking your equipment regularly and training your staff to report any malfunctioning tools is crucial to prevent injuries and incidents.
If equipment is misused or poorly maintained, you or your employees could be held liable in the event of an accident. But if the equipment was not designed or manufactured correctly and safely, or if it did not include sufficient instructions for safe use, the manufacturer could be at fault.
Unsafe Site Conditions
If the site is unsafe or the building you are working at is in poor condition, this can have severe consequences for your on-site employees. This is especially relevant if surfaces or walls thought to be stable are actually unsafe.
Because of this, the whole construction site must be surveyed before construction can start. Such simple prevention can offer valuable indications regarding what areas of the site need more precautionary measures or protective equipment in place. 
Dangerous Machinery and Vehicle Hazards
The majority of construction sites host heavy machinery and vehicles on either a temporary or permanent basis. These are often used to lift, remove, and carry heavy materials, which makes them even more dangerous, as employees could be crushed or hit by machinery or transported equipment, especially if vehicles are used unsafely. 
Training your employees to always be aware of their surroundings and follow safety measures such as staying clear of zones where heavy machinery is being operated is crucial in limiting the number of these accidents. 
Noise-Related Injuries
Many types of tools and devices used in construction sites emit loud noises. Employees must be specifically trained to use such machinery correctly. 
Although they may not be as immediately recognizable as a danger, consistent loud noises can be extremely damaging and cause long-lasting injuries such as hearing loss. You will need to ensure that anyone involved in working in overly loud environments is equipped with adequate personal protective equipment (PPE). 
Be Prepared
Even when all precautions and safety measures are in place, accidents can happen, even if they are minor. When a construction accident occurs, it is crucial to get in touch with a Riverside construction lawyer who can help you determine who is at fault for the accident and what your options are.