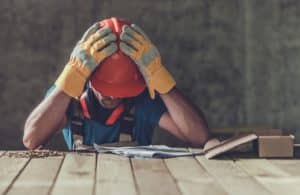 If you work in construction, your chances of suffering an accident are high, particularly in comparison with other industries. Of the
5,190 workers killed
while on the job in 2017, 21.1% were in construction. Many more workers are hurt each day. If you are injured in a construction accident, you have options, but you will need to take action immediately after the accident to get the health care and legal guidance that you need to recover.
Types of Accidents
OSHA names construction's "fatal four" accidents as follows: falls, struck by object, electrocutions and caught in/between. The numbers for each accident type are:
Falls – 384/991
Struck by Object – 93/991
Electrocutions – 82/991
Caught-in/between – 72/991
Among the violations cited most by OSHA in 2017 were fall protection, hazard communication, scaffolding, respiratory protection and electrical. Construction workers face real dangers every day they are on the job. As a result, you and your fellow workers need information on how to proceed once you are involved in a construction accident.
Gathering Documentation
After an accident, you obviously need to seek medical attention in a timely manner. If possible, before you go to the emergency room or clinic, you need to document your injury. Photographs are an excellent way to establish the circumstances of your accident. If you are able, take a number of photos of the site and your injuries so the cause of the accident can more easily be determined. If you are not able to take the pictures, have someone else do it for you, such as a co-worker. Also, note the time and date of the accident as well as the names of those coworkers who witnessed it. Your employer should thoroughly investigate the incident, but your representatives will want to do their own research as well. You will also need to make certain that your doctor adds in-depth notes to your medical record to make clear that your injuries were sustained on the job. Finally, consider keep an accident journal with notes on your medical treatment, insurance discussions, etc. That way, you won't lose track of any important details.
Filing the Right Claim
Filing the right claim after a construction accident is essential to getting the proper compensation for your case. First, you need to notify your employer, in writing, about the accident, and keep your own record as well. Then you will need to determine whether to file a worker's compensation claim or an injury claim.
Worker's Compensation
Usually, worker's compensation applies to any injury you receive on a job site, no matter who is at fault. This type of insurance covers medical treatment, temporary disability, permanent disability and, if necessary, vocational rehabilitation. If your injury is caused by your negligence or your employer's, then worker's compensation is really your only option since the program is meant to protect employers against expensive legal action.
Injury Claim
If your injuries were caused by a third party, then an injury claim may be your best option. For instance, if you are harmed by faulty tools or machinery, the manufacturer may be responsible and need to pay your medical costs and other expenses. You should consider hiring expert legal help before you take any action so that you file the right type of claim.
Seeking Legal Help
Both worker's comp and injury claims come with confusing paperwork and legal procedures. Unless you have expert legal knowledge, you would be ill-advised to try handling a claim on your own. Instead, hire an attorney that specializes in construction injury cases in order to protect your health, your family and your future.
In Riverside, California, the Mellor Law Firm is uniquely qualified to represent you in a construction injury case. They will make certain that you get the financial remuneration to which you are entitled. They will guide you through every step of the process and help you get your life back on track.
Construction accidents are common, so if you are in the industry, be prepared. You can easily be hurt by a fall, a dropped object or equipment failure. If you are in an accident, get the best medical care possible, document the incident, and file the right type of claim. Also, find a law firm that specialized in construction law so that you get the recovery help you deserve. In the world of construction, you need all the protection you can get.